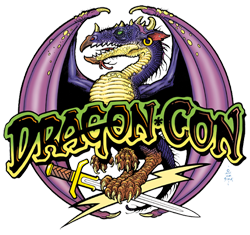 ...is
this weekend
, folks. If you've ever been, then you know what it's all about; if you haven't... trust me, you have
no
idea. It's the weirdest, most unique, most interesting con out there, and part of that is comics. It's not often thought of as much, but check out the comics guests this year: Neal Adams, Mark Bagley, Mark Brooks, J. Scott Campbell, Olivier Coipel, Amanda Conner, Darwyn Cooke, Peter David, Paul Dini, Georges Jeanty, Paul Jenkins, Kelley Jones, Stan Lee, Joseph Michael Linsner, David Mack, Laura Martin, Mike McKone, Mike Mignola, Ted Naifeh, Jimmy Palmiotti, Jason Pearson, George Perez, Tim Sale, Brian Stelfreeze, Karl Story, William Stout, Koi Turnbull, Ethan Van Sciver, Dexter Vines... oh, yeah, and I'll be there, too! How many comics conventions would KILL for that guest list?
In any case, the
Artists Formerly Known As Gaijin Studios
will be trying something a little different at our booth this year. Given the work schedules we all have right now, we opted for less table space and an appearance schedule. Here it is:
Friday:

Karl Story

and

Laura Martin


Saturday:

Cully Hamner

and

Brian Stelfreeze


Sunday:

Brian Stelfreeze

and

Karl Story


Monday:

Cully Hamner

and

Laura Martin
Also, I'll be doing a couple of panels:
Comics2Film & Back2Comics Again


Time: Sat 10:00 am in Hanover F - Hyatt (60 min)
Description: What makes a hit and what makes a miss? Is there any way to take the box office success of some films and use it to broaden the audience for comics? Guests:

Cully Hamner, Scott Allie, Mike Mignola, Darwyn Cooke, Jimmy Palmiotti





Seeing "Red"


Sun 04:00 pm in Hanover F - Hyatt (60 min)
Get the skinny on the new Red movie adapted from the hit comic book. Spend some time with co-creator

Cully Hamner

for previews and a few surprises.
So, come on down, and say hey, will ya?